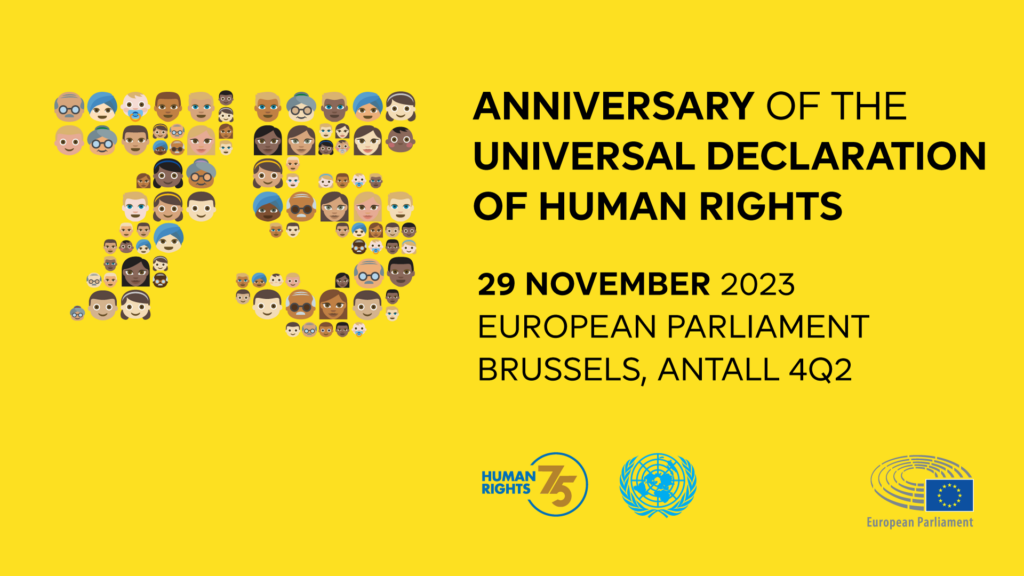 As the world commemorates the 75th anniversary of the Universal Declaration of Human Rights (UDHR), concerns are mounting over the erosion of this fundamental document in the face of illiberal and authoritarian regimes. In recent decades, these regimes have sought to relativize human rights, claiming that they are culturally specific and not universally applicable. This dangerous narrative undermines the very essence of human rights, which are inherent to all individuals, regardless of their background or beliefs.
In response to this growing threat, at the initiative of the Subcommittee on Human Rights, and particularly, MEP Nacho Sánchez Amor, the European Parliament will host a High Level Conference on the 75th anniversary of the UDHR on November 29, 2023. The event will bring together representatives from international and regional human rights mechanisms, EU national parliaments, international and local civil society organizations, as well as young voices from around the world to show unity and reaffirm the universality of human rights.
The Universal Declaration is a milestone in the history of human rights. It remains a compass that guides us in addressing ongoing conflicts and emerging crises the world is facing. It enshrines the fundamental rights and freedoms that all individuals are entitled to, regardless of their race, sex, nationality, religion, or any other status. These rights are not mere aspirations; they are legal obligations that every state has a duty to uphold.
The ongoing attacks on the universality of human rights are not simply academic debates; they have real-world consequences. When human rights are relativized, it becomes easier for authoritarian regimes to justify their repressive policies and deny their citizens their basic rights. This, in turn, leads to increased suffering, instability, and conflict. The world cannot afford to stand idly by while human rights are eroded. We must stand united in our defense of these fundamental principles.  The High Level Conference on the 75th anniversary of the UDHR is a crucial opportunity to reaffirm our commitment to human rights and to develop strategies to counter the challenges we face.
Register here to attend.
AGENDA
08:30
Accreditation Station Europe

10:15

Family photo

Opening speech by Roberta Metsola, President of the European Parliament

10:30 – 13:00

 

PANEL I

75th anniversary of the UDHR
What makes human rights universal?

Chair:
Udo Bullmann, Chair of the Subcommittee on Human Rights of the European ParliamentIntroductory remarks:
David McAllister, Chair of the Committee on Foreign Affairs of the European Parliament
High Level address by:
Volker Türk, United Nations High Commissioner for Human Rights [online]
Guest Speakers:

–      Esmeralda Arosemena de Troitiño, 1st Vice President of the inter-American Commission on Human Rights

–      Idrissa Sow, Commissioner at the African Commission on Human and Peoples' Rights [online]

–      Eamon Gilmore, EU Special Representative for Human Rights

–      Mattias GUYOMAR, Judge at the European Court on Human Rights (ECHR) – tbc

–      Matteo Mecacci, Director of the OSCE Office for Democratic Institutions and Human Rights  [online]

Member of EU National Parliament

‒       Javier Maroto Aranzábal, 1st Vice President of the Spanish Senate

Civil Society Organisations

‒      Khin Ohmar (Myanmar)– Progressive voice

Human rights and democracy activist of Myanmar

‒      Tony Germain Nkina (Burundi)- APRODH

Burundese lawyer and human rights defender

Youth voices

‒      Abdelkhalig Shaib (Sudan)

Sudanese lawyer and human rights defender

‒      Parasto Hakim (Afghanistan)

Activist for the education of women and girls in Afghanistan

Q&A session

Concluding remarks:
Juan Fernando Lopez Aguilar, Chair of the Committee on Civil Liberties, Justice and Home Affairs of the European Parliament
13:00 – 15:00
Lunch break
15:00 – 18:30

 

PANEL II

Working together to meet the challenges of our times

Chair
Udo Bullmann, Chair of the Subcommittee on Human Rights of the European ParliamentIntroductory remarks:
Tomas Tobé, Chair of the Committee on Development of the European Parliament
High Level addresses by:
Jutta Urpilainen, Commissioner for International Partnerships, European CommissionAmina J. Mohammed,  Deputy Secretary-General of the United Nations and Chair of the United Nations Sustainable Development Group
Guest Speakers:

–      Agnes Callamard, Secretary General of Amnesty International

–      Dmitry Mouratov, Nobel Peace Prize Laureate 2021

–      Oleksandra Matviychuk, Head of the Center for Civil Liberties, awarded the Nobel Peace Prize 2022 and a representative of the Ukrainian people for the Sakharov Prize 2022

‒     Maria Ressa, Nobel Peace Prize Laureate 2021

–      Mahbouba Seraj, Director of Afghan Women Skills Development Center [online]

Member of EU National Parliament

–      Khalil Aouasti, Member of the Standing Committee on Justice of the Belgian Chamber

Civil Society Organisation

‒      Ivonne Yanez (Ecuador)- Acción Ecológica

Environmental  and feminist activist of Ecuador

‒      Ruslan Myatiev (Turkmenistan)– Turkmen.news

Anti-slavery activist and human rights defender of Turkmenistan

‒      Ana Claudia Santano (Brazil)- Transparência Eleitoral Brasil [online]

Brasilian human rights defender and democracy advocate

Youth voices

Egyptian feminist activist and founder of Nazra

Q&A session

Concluding remarks:
Nacho Sanchez Amor : Rapporteur on the annual report on democracy and human rights in the world and the EU's policies on the matter in 2023

Closing of the event:

Heidi Hautala, Vice President of the European Parliament